Flower Arrangements
The main attraction for our customers is our highly customized floral arrangements. Our customers in Revelstoke can select from several packages depending on the occassion.

Vase Arrangement
Freshly cut flowers placed inside a beautiful vase. A great gift for anyone!

Average: $37 - 70
Deluxe: $75 - 200

Container or Basket Arrangement
A floral arrangement placed inside a basket or container of your choice.

Average: $35 - 50
Deluxe: $60 - 100

Fresh Cut Flowers
We also provide a wide assortment of freshly cut flowers to suit any occassion.

Average: $25 - 50
Deluxe: $50 - 150

Plants & Planters
Green/Tropical (4"-8"): $3.99 - 39.99
Flowering Plants (4"-6"): $4.99 - 54.99
Bonsai: $54.99 and up
Planter Gardens: $30 - 100
Wedding Arrangements
Our design team at Creative Flowers & Gifts know how important a wedding day is. We work hand in hand with our brides, as well as hotels, hair stylists, photographers, etc. to insure that their wedding flowers are as they always dreamt them to be. Please contact us for more details.

Featured Gifts
At Creative Flowers & Gifts, in addition to having tailor-made floral arrangements, we also carry a wide range of gifts for our customers to select from.

Our Shop
Take a peek inside Flower Store, located in Townville, British Columbia. Want to visit? See: map.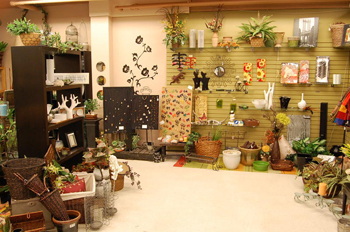 Follow Us
Feel free to check out our Facebook and Twitter pages for the latest updates!
Buttons removed for this website preview, please use your imagination.