About Us
Flower Store has been a local florist shop in Townville for over 25 years. Under new, current ownership (Jane Doe, who has been a part of and managed business for the past 12 years), the shop was expanded into a 2000 sq. ft. floral boutique, gift ware and home decor shop in May 2008. In October 2008, Flower Store was nominated for "Entrepreneur of the Year", "Business of the Year" and was awarded "Retail Excellence of the Year." Flower Store is a full service floral shop and is centrally located in Townville in the Alpine Village Plaza, 555 Victoria Rd.

Flower Store proudly serves Townville, providing the highest quality of floral designs and products. We carry a large selection of fresh flowers starting from everyday classics such as roses, mum and carns to unique and exotic, orchid varieties, gerbera daises, lilies, etc. Also, we are able to accommodate most floral requests with sufficient notice*.

A variety of fresh floral arrangements are on hand; our floral arrangements range from simple and funky to elegant and extravagant, ready for pick up or delivery or you can always have our designers custom create something special to meet your needs. We like to say, "They don't call us creative for nothing!" We also carry a large selection of plants, from orchid plants to bonsai to large tropical house potted in beautiful ceramic pottery.

At Flower Store, we offer an extensive line of home decor and gift ware items. We aim to provide our customers with a variety of unique choices from simple to chic. A gift registry, gift certificates and deluxe gift wrapping is also available. Our design team at Flower Store know how important a wedding day is. We work hand in hand with our brides, as well as hotels, hair stylists, photographers, etc. to insure that their wedding flowers are as they always dreamt them to be. We at Flower Store always strive to impress and provide outstanding service.
Notes:
*subject to availability

Our Shop
Take a peek inside Flower Store, located in Townville, British Columbia. Want to visit? See: map.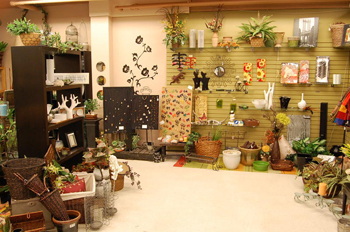 Follow Us
Feel free to check out our Facebook and Twitter pages for the latest updates!
Buttons removed for this website preview, please use your imagination.